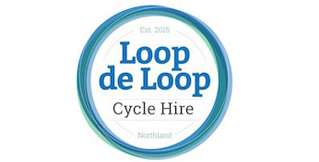 Cycling the Hatea Loop and beyond
The Hatea loop is a 4.5 km shared path that takes you around the harbour offering great views of the city and surrounding hills.
Opening hours
10am till 3pm – Wednesday and Sunday
Open 7 days a week during the school holidays.
Special after hours group bookings also available 
For all enquiries please email info@loopdeloop.co.nz
phone (027) 303 6800
Enquire about our multi day rates, bike membership deals loyalty cards and other special offers. 
Corporate bike hire option for Northland based businesses  $7.50 (plus GST) per week per bike (Ts and Cs apply).
​
For more information about Loop de Loop:
Visit us at:
Reyburn House Lane
Opposite Reyburn House
Whangarei
​New Zealand
Phone: (027) 303 6800

Visit our website: